Swing Dancing in Boston
While swing dance classes are fun, they should definitely go hand-in-hand with social dancing! Below we have weekly swing dances listed as well as special events.  Boston is noted for having a friendly community with a variety of places to dance locally.
Although this includes many of the places where you will find our instructors and students, this is by no means a comprehensive list of dancing opportunities in Boston.  The Have To Dance calendar is another great resource, and we encourage you to check it out, too!
---
Local Weekly Swing Dances
Monday Night Practice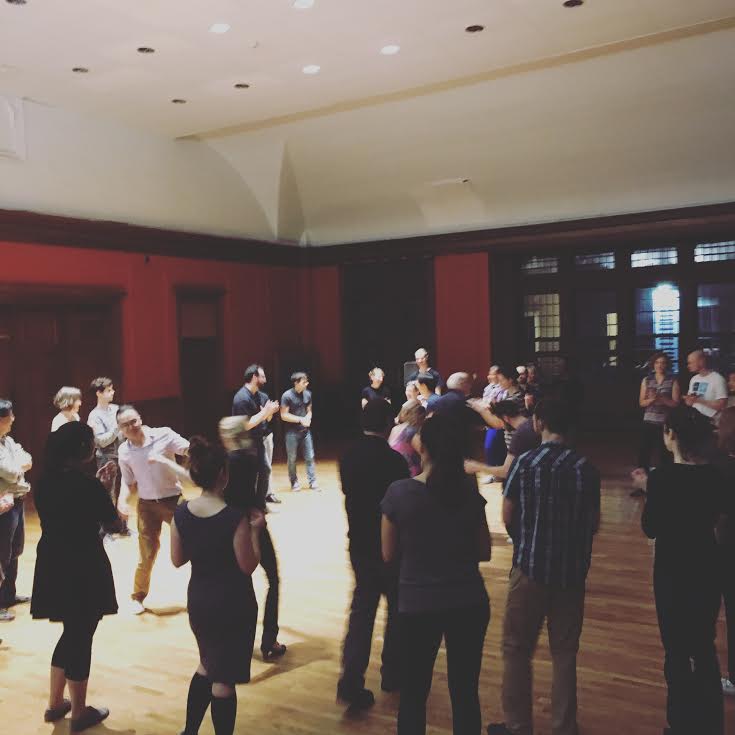 Despite having the word practice in the title, Monday Night Practice is actually a social dance held twice a month on Mondays at 9:00 P.M  in Harvard Square. The dance is noted for the great wood floor and the fact that there is usually authentic swing dance music DJed. The cost is $5 for students below the age of 24 with student I.D. and $8 for non-students. However, if you are registered for a Boston Lindy Hop class series the dance is free while your class is still in session!
Boston Swing Central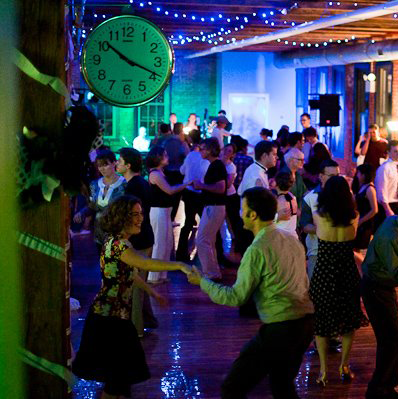 Located in Cambridge, Boston Swing Central is a dancer-formed, non-profit, volunteer-run organization dedicated to promoting positive and fun swing dancing experiences in Boston. It features a drop-in lesson at 8:00 P.M and social dancing starting at 9:00 P.M. There is a parking lot and is in walking distance from the Alewife stop on the Red Line. Most nights feature great live bands, and the price of the venue varies based on if it is a band or DJed night.
---
Monthly/Occasional Swing Dances
Uptown Swing
Note: Uptown Swing is on hiatus. 
Our friends Tony and Aurelie over at Hop to the Beat studios have been offering Lindy Hop classes for over 20 years! Uptown Swing is their monthly dance, and they bring great live music to a lovely venue in Brookline. Tony and Aurelie also run the Beantown Camp as well as occasional workshop weekends throughout the year.
Somerville Stomp
Note: Somerville Stomp is on hiatus. 
Our very own Somerville Stomp is a  monthly dance held usually the 2nd Wednesday of the month at Samba Bar in Somerville . It's one of the best nights of dancing in Boston, and there is often some kind of performance or contest as entertainment.
JP Jitterbugs
JP Jitterbugs, offers, "Swing dancing in the Jamaica Plain area, honoring the roots of the art form in pre-WWII Harlem, and influenced by nature, especially the sunset over Jamaica Pond as seen from the boathouse pavilion." 
---
Special Events
We are fortunate to have many special events held throughout the year in Boston, and even more in the greater New England area and beyond.  Some of these events are dedicated to social dancing, while others bring in some of the world's best Lindy Hop instructors to teach.  We can't possibly list them all, but here are a few to get you started!
Winter: Kind of A Big Deal Weekend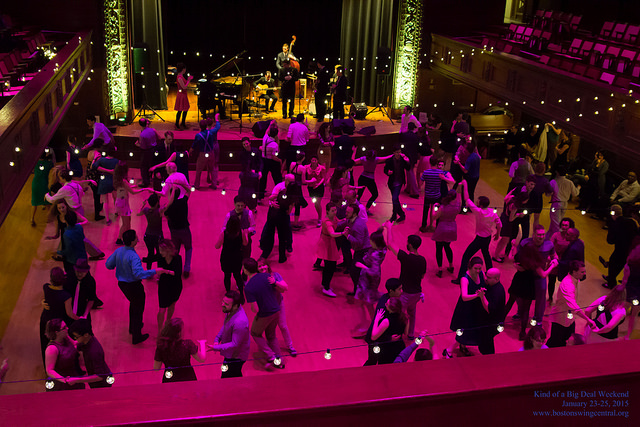 Each January, Boston Swing Central holds its annual Kind of a Big Deal Weekend.  It's got renowned instructors from around the country teaching two days of classes, and some of the hottest bands in the country playing to boot!
KOABD Website
Fall: Dirty Water Lindy Exchange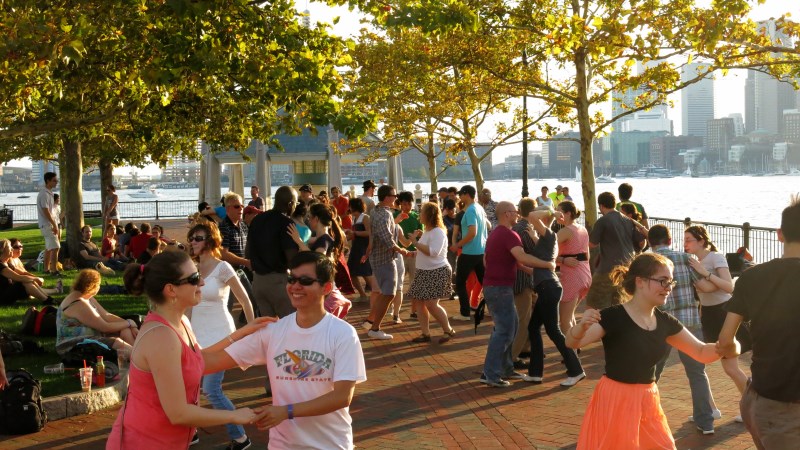 Organized by Boston Swing Central, the Dirty Water Lindy Exchange is a weekend dedicated to Boston social dancing and socializing! You won't want to miss this opportunity for amazing music and dancing with old and new friends!
Dirty Water Exchange Website
Summer: Beantown Camp

This camp on the North Shore offers a fantastic immersive opportunity for dancers of all skill levels.  Dedicated campers can stay for an entire week, or shorter durations are also available.  Now in its 20th year, the camp draws many of the best instructors from around the world. Beantown Website