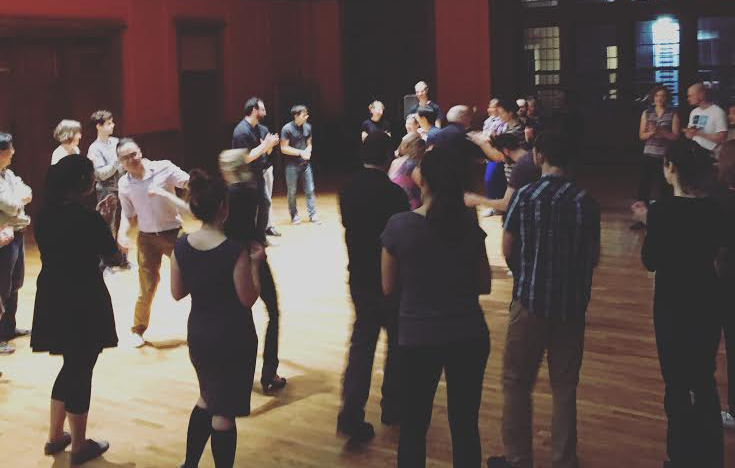 We're excited to be partnering with the folks at the Monday Night Practice Session. We are now offering classes from 7:00-9:00pm on Mondays before the dance, which means more opportunities for you to learn!  
Our regular Monday schedule is:
7pm - 8pm: Register Now!

Lindy 2 - Connection, Momentum, or Musicality
Charleton 2 - Partnered Charleston or Solo Jazz
Fundamentals - Rotates each session

8pm - 9pm: Register Now!

Lindy 1
Charleston 1
Other Mini-Series
We strongly encourage you to stay for the dance at the Monday Night Practice Session.  Social dancing is the reason we do all of this, and let's be honest, dancing is the best practice!  The Monday Night Practice dance costs $8 ($5 for folks under 23 with a student ID).
Special Deal for BLH Students
We know that as a new dancer, it's not always easy to practice on your own. We want to make it easy for you to work on your moves; that's why we've created a special arrangement with Monday Night Practice. BLH students who take any weekly class series allowed are allowed to stick around for the dance for free for dances as long as the series is in session! You just have to go to the front desk and say you are on the BLH list.
And don't forget, there are plenty more opportunities to dance around town. Check out our friends on Friday nights over at Boston Swing Central, as well as the numerous other dances around town. For more information, check our dancing in Boston webpage.

*Note: This deal only applies to students who are taking weekly series classes. This deal does not apply to students taking drop-in classes, special workshops, practice sessions, or Swing 101.